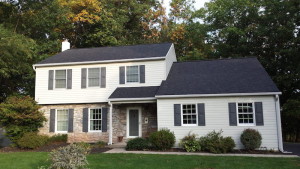 When was the last time you visited Angie's List? It's an excellent place to find honest reviews of local businesses as you shop around for services, and Summit Roofing & Siding is there, too! A Telford homeowner was using Angie's List to find the best roofing company in the area. After reading Summit's rave reviews, they reached out to us right away. A member of our team assembled a proposal packet and traveled to Telford with a selection of samples for the homeowner to review. After sitting down with the client, reviewing all possible options, and discussing the best selections for his home and budget, the customer was ready to move forward with the project.
Installing The Solution
The homeowner chose Owens Corning Duration shingles in Onyx Black to create a beautiful contrast to the white siding of the house. The entire old roof was completely removed and replaced in less than a day! And the client couldn't have been happier! We were pleased to leave the homeowner with a brand new, high quality roof system that will last maintenance-free for years to come, and are looking forward to yet another rave review online!
The Importance Of Reviews
It is important to do your homework when considering a large-scale home improvement project. Resources such as Angie's List can really help point you in the right direction of the perfect business to get the job done for you. Take a look at some of our testimonials and see for yourself just what makes Summit Roofing & Siding the region's leading expert in roofing and siding! Ready to get an estimate on your roof or siding replacement? Click here to get your custom quote from Summit Roofing & Siding today!